"I am a feather for each wind that blows"
-
Every evening (except Sunday) at 7.30pm King's College Gardens
(entrance via Queen's Road only)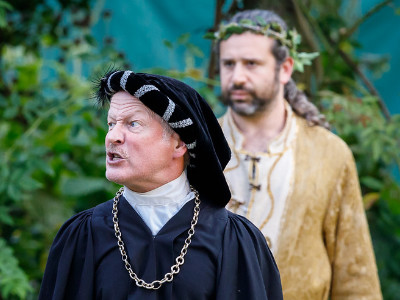 Leontes, King of Sicilia, is driven mad with irrational jealousy, convinced that his wife, Hermione, is having an affair with his childhood friend, Polixenes, and that the child she is bearing is not his own. Polixenes escapes to Bohemia, whilst Leontes orders that the child, a daughter, must be abandoned on a desert shore. Leontes assumes the child has perished – but sixteen years pass before the truth is uncovered. The beautiful setting of King's College gardens provides the backdrop for Shakespeare's masterful study of suspicion and obsession. Watch out for some comic twists and turns, too… and a bear!
...polished performances all round ...lively and inspired ...a production well worth seeing —The Times
Finished for 2023
The Winter's Tale has now finished for 2023 - please join us for the Cambridge Shakespeare Festival in 2024!