"Is there not a double excellency in this? I know not which pleases me better, that my husband is deceived, or Sir John'"
-
Every evening (except Sunday) at 7.30pm King's College Gardens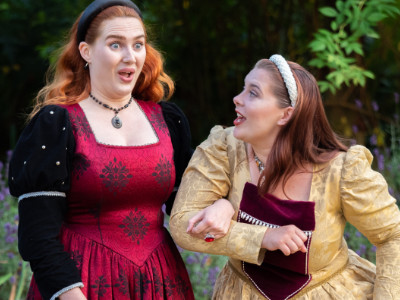 Shakespeare's brilliantly witty farce tells of a would-be seducer, a jealous husband and two resourceful housewives in a hilarious battle of wits and wiles. Sir John Falstaff gets more than he bargained for when he simultaneously pursues two wealthy married women. Upon receiving identical copies of Falstaff's love letter, the spirited Mistresses Ford and Page cook up a scheme of their own to teach the fat knight a lesson, with uproariously funny results. Don't miss this sparkling production!
… a larger-than-life and hilarious take on one of Shakespeare's most beloved figures —The Times
Finished for 2021
The Merry Wives of Windsor has now finished for 2021 - please join us for the Cambridge Shakespeare Festival in 2022!