"There are more things in Heaven and Earth, Horatio, than are dreamt of in your philosophy"
-
Every evening (except Sunday) at 7.30pm King's College Gardens
(entrance via Queen's Road only)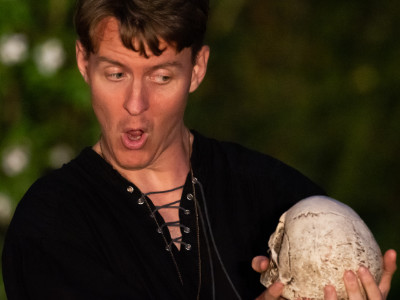 Hamlet returns home from University in Wittenberg to discover that his father is dead and that his mother has married his uncle (Claudius). The ghost of Hamlet's father appears and tells Hamlet that Claudius is responsible for his death and commands him to seek revenge. Shakespeare's masterpiece of psychological torment and self-reflection is played out in the stunning gardens of King's College. A dynamic, energetic, must-see production.
A beautifully-paced, thoughtful and intelligent production, with plenty of action offsetting moments of real pathos and tragedy. —The Times
Finished for 2019
Hamlet has now finished for 2019 - please join us for the Cambridge Shakespeare Festival in 2021! See the homepage for details of our crowdfunding appeal.