SUPPORT THE CAMBRIDGE SHAKESPEARE FESTIVAL The Cambridge Shakespeare Festival has never received any Arts Council grants or any other external funding and relies upon the support of our audiences to survive. The Festival needs your support now in order to ensure that next year's Festival can go ahead. We have started a crowdfunding appeal, which opens on 21st June (Midsummer night) and hope that you'll be able to contribute.CLICK FOR FULL DETAILS & TO MAKE A CONTRIBUTIONIf you are unable to help we still hope we are in a position to welcome you back to the Festival in 2021. You can also help by spreading news of the appeal to friends and family. Thank you for your support!
WE'RE BACK!! The 2021 programme will be updated soon.
...no knee-bending to trendy revisionism... but rather a tour de force of Elizabethan drama - The Times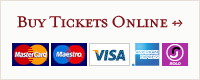 Welcome to the website for the UK's best-loved open-air Shakespeare Festival, recently described in the TLS as "one of the finest events of its kind in the UK". The following pages give you information and insight into the programme for this summer and a flavour of all you can expect as you enter the timeless and magical atmosphere of the Cambridge University private gardens. Our charity performances have so far raised £97,500 for charity.