"All the world's a stage, And all the men and women merely players"
-
Every evening (except Sunday) at 7.30pm King's College Gardens
(entrance via Queen's Road only)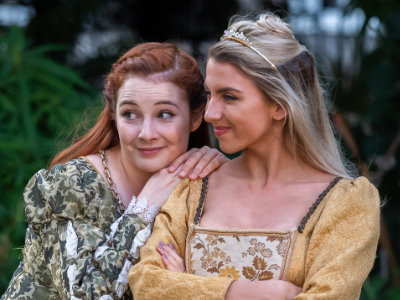 Banished by her usurping uncle, Rosalind seeks refuge in the Forest of Arden, where her father, Duke Senior, holds court with his followers. There, disguised as a young squire, she instructs Orlando, the man she secretly loves, in the ways of a woman's heart – only to acquire a new and unexpected admirer. Full of wit, wisdom and song, and featuring one of Shakespeare's most engaging heroines, this is high romantic comedy at its richest and most delightful.
Beautifully crafted scenes with comic turns timed to perfection in an idyllic setting. A lovely evening had by all. —The Times
Finished for 2019
As You Like It has now finished for 2019 - please join us for the Cambridge Shakespeare Festival in 2021! See the homepage for details of our crowdfunding appeal.