"There's not a man I meet but doth salute me
As if I were their well-acquainted friend"
-
Every evening (except Sunday) at 7.30pm Downing College Gardens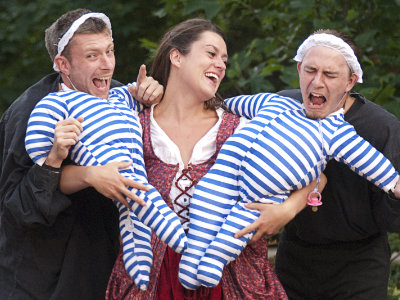 Shakespeare's brilliant farce of mistaken identity and slap-stick frivolity is set in the superb classical setting of Downing College. Antipholus (of Ephesus), with his servant Dromio, think their twin brothers (also called Antipholus and Dromio) have been drowned at sea many years earlier. But Antipholus (of Syracuse), with his servant Dromio, come ashore, with neither knowing the other exists. The locals constantly confuse the pairs (even including Antipholus' wife!) and the comedy of errors ensues. Don't miss this fast-paced and sparkling production.
A greatly skilled and athletic young team, playing fast, open, attacking theatre —Cambridge Evening News
Finished for 2021
The Comedy of Errors has now finished for 2021 - please join us for the Cambridge Shakespeare Festival in 2022!