"Life's but a walking shadow, a poor player,
That struts and frets his hour upon the stage,
And then is heard no more"
-
Every evening (except Sunday) at 7.30pm Trinity College Gardens
(entrance via Queen's Road only)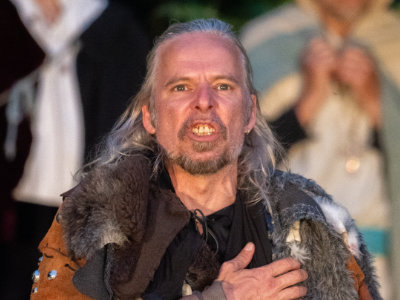 In the brooding and magnificent setting of Trinity College Fellows'Garden, as dusk turns towards night, the forces that orchestrate Macbeth's final decent into the abyss are once again set in motion. This moon-bathed and dynamic production brings together the themes of madness, the thirst for power, and the darkness of the supernatural before reaching an explosive conclusion. Not to be missed!
No knee-bending to trendy revisionism, but rather a tour de force of Elizabethan drama —The Times
Finished for 2021
Macbeth has now finished for 2021 - please join us for the Cambridge Shakespeare Festival in 2022!