"O, while you live, tell truth, and shame the Devil!"
-
Every evening (except Sunday) at 7.30pm Robinson College Gardens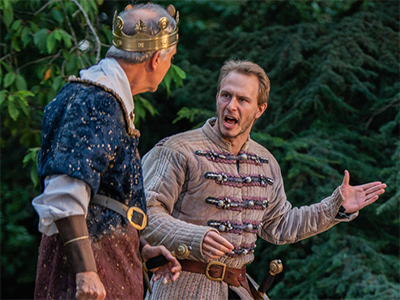 Henry IV's reign is perilous. Beset with political intrigues, there is also rebellion brewing throughout his kingdom. His son, Prince Hal, is a drunkard, spending his time with the dissolute and hilarious Falstaff. The hot-headed Hotspur, leading the rebellion, is a powerful enemy. Will Prince Hal change his ways and step up in time to confront Hotspur? A brilliant political drama interspersed with moments of genuine comedy.
A captivating and thoroughly entertaining production, sprinkled with stardust thanks to the hugely impressive cast. —The Times
Finished for 2019
Henry IV (Part 1) has now finished for 2019 - please join us for the Cambridge Shakespeare Festival in 2021! See the homepage for details of our crowdfunding appeal.