"Uneasy lies the head that wears a crown."
-
Every evening (except Sunday) at 7.30pm Robinson College Gardens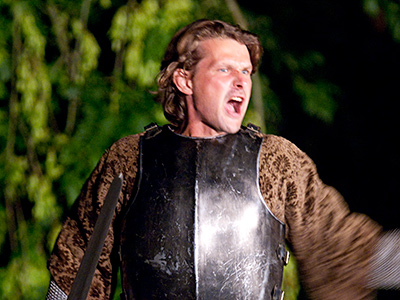 The threat of civil war looms over the country as King Henry IV becomes increasingly unwell. But the King is uncertain that his son, Prince Hal, is a worthy heir, since he has returned to his dissolute ways with the drunkard, Falstaff, who is sent to the countryside to recruit fresh troops, where he gleefully indulges in the business of lining his own pockets. As the King's health continues to worsen, Hal must choose between duty and loyalty to an old friend as the story races to a heartbreaking conclusion.
I loved the power, inventiveness and imagination of this highly original production. —Cambridge Evening News
Finished for 2019
Henry IV (Part 2) has now finished for 2019 - please join us for the Cambridge Shakespeare Festival in 2021! See the homepage for details of our crowdfunding appeal.